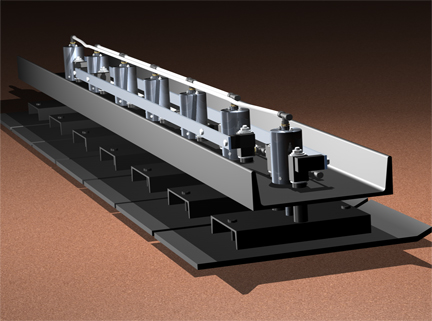 CG&S is proud to offer the HOTFOOT™ adjustable heat transfer system for your corrugator heating section.  This system replaces your doublebacker's current weight roller system, offering all of the benefits of other weight roll elimination systems with none of the limitations.*The system can be adjusted to perfectly compensate for the center sag of the steam chest to ensure even heat transfer across the entire web. HOTFOOT™ is made in the USA by Corrugated Gear and Services, and carries 3 US Patents (5526739,5711214, and 5732622)  As always, CG&S guarantees that if you are not completely satisfied with HOTFOOT™ we will remove it and restore your weight rollers at no cost to you.
Revolutionary Patented Doublebacker Heat Transfer System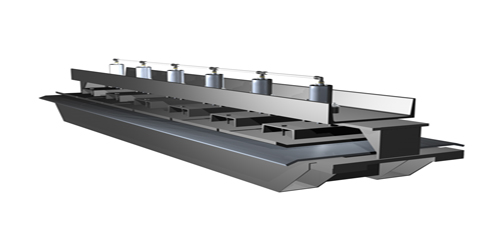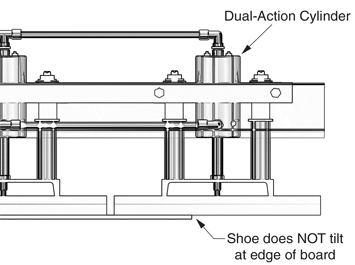 Adjustable Traction Section
FEATURES:
INDEPENDENT BAR LIFT FOR EACH BAR

OUTER FEET (ZONES) CAN BE LIFTED FOR NARROW BOARD

FULLY ADJUSTABLE SYSTEM PRESSURE

ADJUSTABLE PRESSURE FOR CENTER SHOES. . . DESIRABLE FOR MICRO-FLUTE APPLICATIONS

AUTOMATICALLY COMPENSATES FOR CENTER SAG OF STEAM CHEST

INCREASES HEAT TRANSFER


BENEFITS:
SIMPLIFIED CONTROLS WITH NO OPERATOR CHANGES REQUIRED WHEN CHANGING FLUTES OR BOARD GRADES

INCREASED CORRUGATOR BELT LIFE

ENERGY SAVINGS - COMPARED TO HIGH-FRICTION SYSTEMS

BETTER BONDING AT HIGHER SPEEDS

ELIMINATES ROLLER MAINTENANCE

SIGNIFICANTLY REDUCES WASTE

HIGHER RUN SPEEDS

LESS WARP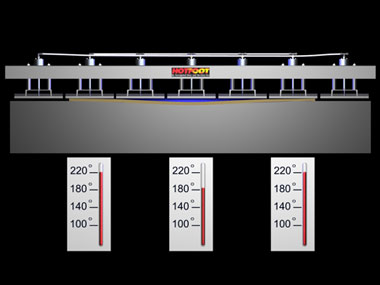 *Hover mouse over image to see how HOTFOOT™ compensates for loss of heat due to steam chest sag!